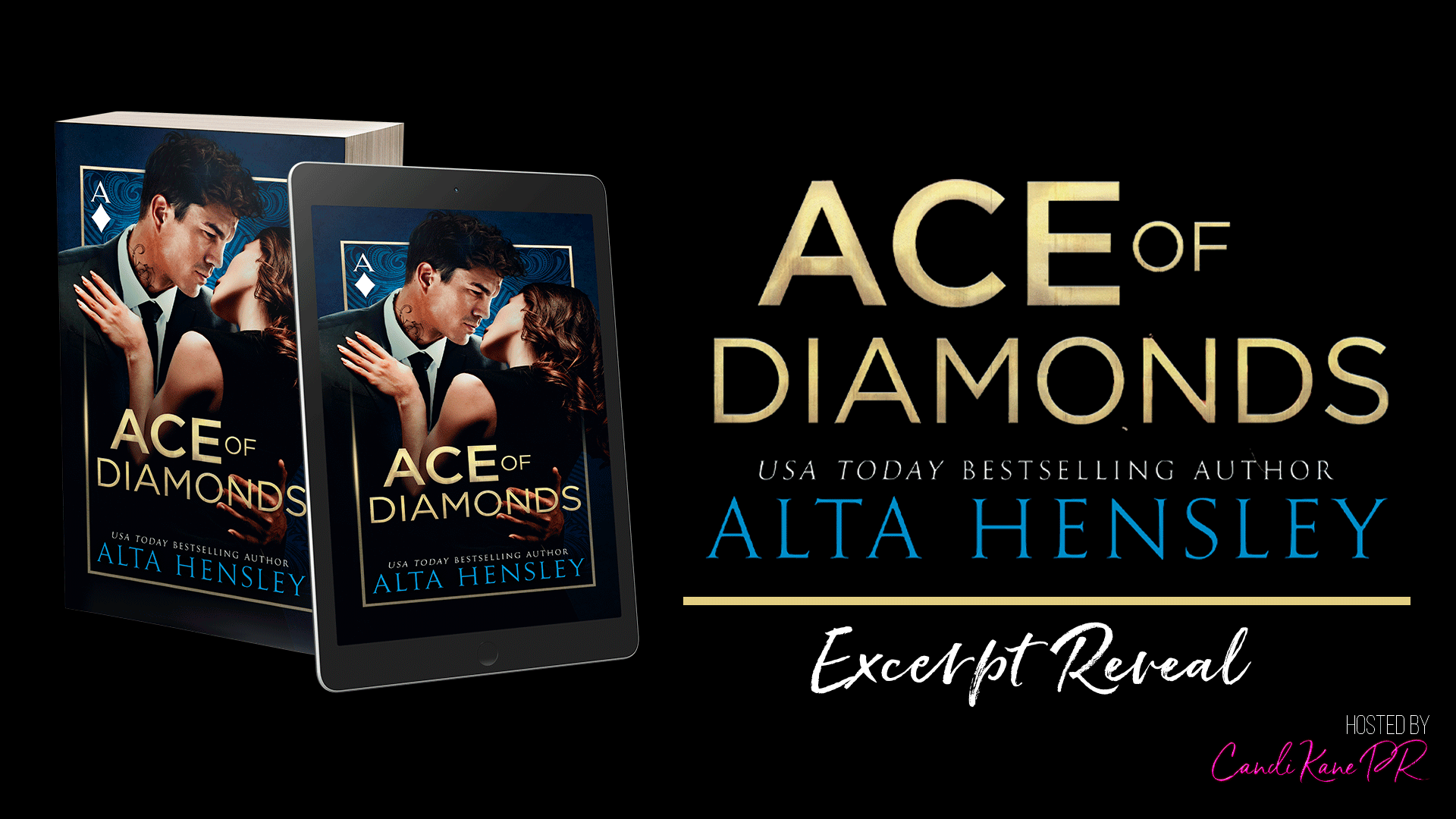 ACE OF DIAMONDS (The Wonderland Trilogy #3) by Alta Hensley
Release Date: October 4th
Genre/Tropes: Billionaire Romance/Virgin
Romance/Protector

PREORDER TODAY!!
Amazon: https://amzn.to/3KHjHZ4
Amazon INTL: https://bit.ly/3IIrvIl
Apple Books:
https://apple.co/3uZF9Cy
Barnes & Noble:
https://bit.ly/3rAAMMv
Kobo: https://bit.ly/3jp3lYu
Google Play: https://bit.ly/3jXyqD1

START THE TRILOGY WITH #1 KING OF SPADES!!!
Amazon: https://amzn.to/3L2GL4s
Amazon INTL: https://geni.us/KingofSpades
Apple: https://geni.us/KoS-APPLE
Nook: https://geni.us/KoS-NOOK
Kobo: https://geni.us/KoS-KOBO
Google Play: https://geni.us/KoS-GOOGLE

Add to Goodreads:
https://www.goodreads.com/book/show/61336037-ace-of-
diamonds






EXCERPT
I hate that I have to share. I've never been good at sharing
anything in my life. I want us back in Italy. Just us, under the Tuscan sun, never to be apart. No
eyes on her. Not a single soul deciding if they have a chance getting in her panties. No one
looking at her but me. Me.
Selfish?
No.
Possessive?
Yes.
If I'd have my way, I'd keep Lyriope locked in a cage with the
only key belonging to me. She is the pure definition of perfection, and for some unknown
reason, I was the lucky bastard who got the privilege of calling her mine. Even if temporarily.
Even if she was mine in a fucked-up way. Even if I had to take it. And yes, I most certainly took
it.
I had purposely kept an open invite to every single Morelli to
Wonderland. No hard feelings… at least on the surface. Come and play with me in Wonderland,
motherfuckers. Come play. It's my way of keeping my enemies close at all times, and it's in my
domain. Had I expected any to attend so closely to the Italy incident? No. So, to see her
unexpected visit with Sasha doesn't exactly have me surprised, just amused that this girl does
exactly what she wants and how she wants to do it. Her balls are bigger than any thug at this
party. I'm sure Sasha being the devil on her shoulder didn't hurt in having her return to
Wonderland. I'm not sure if I should thank Sasha or—
I notice my security—led by Harrison—are close behind them
trying to be subtle, knowing damn well I didn't plan for her to be here, but are going to do
whatever they can to keep her safe. They know me well. I can see that Harrison isn't pleased,
but he wasn't going to argue with me when I told Martha to let them through the door. After all, I
did say all Morellis are on the guest list.
A black dress that shows off every single curve of her body has
me paralyzed and unable to take my eyes off her. Not only does she come to my Wonderland
unannounced, but she also has to wear a dress that tempts everyone to set eyes on her. Her
shapely legs in those black and red-soled heels go on forever. Straight to that pussy I haven't
been able to get my mind off.
Her taste is like heroin to a hopeless junkie, and I shake for
another fix.
She's wearing pearls that hang to her lower belly. Pearls that
symbolize the new life she's living now. She's no longer the poor hustler her mother raised her
to be. No, she's now the daughter of Bryant Morelli and though I see she's not truly comfortable
in that skin, my fingers twitch to take hold of those pearls and rub them over every inch of her
body.
Rich looks good on her.
God, I want her. I want her again, and again, and
again.
I'm tempted to repeat history and kidnap her, tie her up in my
wine cellar, and parade her naked ass for all my staff to see that my queen has returned to the
palace.
I want everyone to know this woman is mine, and only mine.
Even if I have to take her again.
And fuck me… she is hot as hell.
When did her eyes sparkle so much? Even in the shadowed
room of the warehouse and from this distance, I can see them. I can feel them. Those damn
eyes. To an unsuspecting spectator she'd appear so pure and innocent, when I know she is
anything but. My perfect girl, I liked to dirty up. She liked it fucking filthy, which makes me crave
her more than anything in the world. She is the greatest possession that I don't have. She's an
antique I need. She's a priceless heirloom that should be on a mantel. My mantel.






Blurb:
The winner takes all…
I had her. She was mine. They took her away.
Lyriope Morelli is the dream I've been chasing. My obsession
isn't gone, my hunger's not satiated. I won't rest until I find her and claim her again. I won't rest
until I've dragged her safely back to Wonderland.
Villains don't get the happily ever after written for them in the
story. And I'm the villain of this story–vicious and calculating, terrifying in my whims. Which is
why, when it comes to my queen of hearts…
The game has just begun.


Welcome to the Midnight Dynasty… The warring Morelli and
Constantine families have enough bad blood to fill an ocean, and their brand new stories will be
told by your favorite dangerous romance authors.

WARNING: This book is intended for readers eighteen years
old and over. It contains material that some readers could find disturbing. Enter at your own
risk…



About the Author:
Alta Hensley is a USA TODAY bestselling author of hot, dark
and dirty romance. She is also an Amazon Top 100 bestselling author.

Being a multi-published author in the romance genre, Alta is
known for her dark, gritty alpha heroes, sometimes sweet love stories, hot eroticism, and
engaging tales of the constant struggle between dominance and submission.

Connect w/Alta:
Website: https://www.altahensley.com/
Facebook:
www.facebook.com/altahensleyauthor
FB Readers Group: https://www.facebook.com/groups/886919881448795/
Instagram: https://instagram.com/altahensley
Twitter: https://twitter.com/altahensley
Amazon: https://www.amazon.com/Alta-
Hensley/e/B004G5A6LI
Goodreads:
https://www.goodreads.com/author/show/4491649.Alta_Hensley
BookBub: https://www.bookbub.com/authors/alta-hensley
TikTok: https://vm.tiktok.com/ZTdm23Vr3/