I keep trying to say that PNR is one of my favorite things to read, but that's kind of a lie. Pretty much everything is one of my favorite things to read, lol. But, the point is that I love to read PNR. And I love Golden Angel's Big Bad Bunnies series. It's really unique in some of its viewpoints and the way that it takes things. Chasing His Honey Badger continues on with the Harry Potter, Monty Python, and Disney references that run through the rest of the series.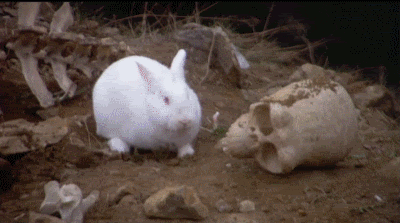 Actual footage of Bailey Bunson.
We're at the last of the Bunson brothers now, Brice. All his brothers have mated, as has his sister Bethany. The only ones left are him and their baby sister, Bailey, the Bunny of Caerbannog. And Bailey says that she's holding out for her fated mate while dating everyone possible, and hanging with Kasim, a lion shifter. But they aren't our focus here. Today, it's Brice and Rana.
Brice has been hanging with Eli's group so that he can help take down The Company, while all the rest of his family are with Steele's pack. One day, Brice sees a group of hot biker chicks in the parking lot, walks over to them because he, you know, is a guy who is catching up on his wild oats, and biker chicks are hot. As he is walking up to one of them, he realizes that she smells perfect and like all the good things ever, and that she's his fated mate. When he walks up to her, she is pretty pissed and just doesn't want to deal with him. Then she and her group, which are all her cousins, just leave. When Brice tells Eli what happened, Eli tells him that Rana has anosmia, which means that she has no sense of smell, which means she can't smell if he is her fated mate or not.
Rana has been burned before. She's had 2 other guys tell her that they were fated mate, but turned out that they weren't. She and her cousins, all honey badger shifters, took care of them. And you don't want to fuck with Rana and her cousins. They are smart, fierce, and vengeful. I think it's probably righteous vengeance in most cases, but I wouldn't want to do anything that would get me on the wrong side of them, especially if they have honey and ants around. So when this random guy came up and told her that she was his fated mate, she was both pissed and upset. She thought that he was trying to make fun of her in a very not nice way. So, she leaves with her cousins, headed towards the mountain where Steele's pack is living so that they can visit another cousin, and she's just going to ignore him. What she doesn't count on is the Bunson connection.
This particular issue doesn't come up in Brice and Rana's story, but I think it's adjacent to it, and it does come up in other books, but I love the way that Golden handles fated mates. In this universe, fated mates are so super incredibly rare that it's shocking that 2 of the Bunsons have fated mates. Most shifters find someone that they love and court them and end up mating them. Once they have exchanged that mating bite, if there was a fated mate out there somewhere, that connection is broken. That can even happen if the fated person shows up 2 seconds before the bite has been exchanged, which would hopefully not happen, since the bites are generally shared during sex. The mating mark trumps all. I love that because I think, especially in shifter stories, fated mates tend to be the end all be all of the stories.
OK, here's the reason that I think that this is adjacent to the fated mate thing. The fact that Rana can't smell her fated mate means that she won't know who he is if and when she meets him. She does feel a pull toward Brice, but hey, I feel a pull toward Jason Mamoa, but that doesn't mean that I'm his fated mate or anything. Attraction is a thing. Fated mates generally have a really hard time fighting off the connection until they share the bites. I think that Rana sort of feels that, but not in the same way that Brice does, because Brice has the total package going on. So, Brice has to woo her more like a chosen mate would than just count on the biological pull of fated mates. I really love that. Golden just flips the whole fated mate thing on its head, again.
Rana and her cousins are a fucking hoot. I mean, I love them, they were just so funny. I would love to hang out with them. Not drink with them though. That's a hard limit for me. We could totally watch Kinky Boots together, because whatever Lola wants, Lola gets.
Well, we only have Bailey left in the series, so we'll have to see where her story goes.
Honey badger don't give a fuck. And Rana and her family pretty much prove that. LOL.
I love the cousins testing Brice for Rana to make sure that he is really the one. Family like that is awesome.
I also love Rana riding Brice into battle. The picture in my head was awesome.
OK, that's all I have to say today. The Big Bad Bunnies are awesome, so you need to check them out. Happy reading!